Handi Quilter systems are simply the best home machine quilting systems available. Whether you're a beginning quilter or advanced, starting a business of your own or simply finishing quilts for your kids or grandkids, there is a Handi Quilter system for you.
The Handi Quilter Story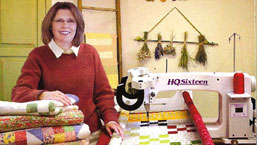 The story began when founder Laurel Barrus needed an easy way to carry her frame on trips to her family cabin. There was nothing on the market that met her needs, but that didn't stop her. She worked with her father to create a frame that used her home sewing machine. It was light and small and could be adjusted to handle small or large quilts.
It was a hit with her friends who all wanted one, too. Given the interest, she worked with several suppliers to create a sample frame that was shown at the International Quilt Festival in October, 2000. After the show there were enough orders to keep the suppliers busy until Christmas. She went to more shows and got more orders.
View the video below to learn more about Handi Quilter.
We are A Handi Quilter Authorized Representative. If you would like to visit us for a demonstration click here to set-up an appointment.
Success
Handi Quilter became a business in May of 2001. Engineers and support staff were hired to create a new type of product: the mid arm quilting machine. The result was the Handi Quilter Sixteen, now upgraded to the Sweet Sixteen. It is ideal for the home quilter who wants a quality product at an affordable price. The Sweet Sixteen is the centerpiece of the Handi Quilter product line.
A short nine years later, Handi Quilter earned worldwide safety and electrical certificates for their line of long arm quilting machines and systems. As a result, there are now more than 700 worldwide independent retail locations.
Equipment